102.7 THE PEAK brings you our own version of the NCAA March Madness bracket – MODERN ROCK MARCH MADNESS!
Every March we pin modern rock bands against each other and you can vote for the band you think should be crowned Modern Rock March Madness Champion.
Voting is now closed for 2018.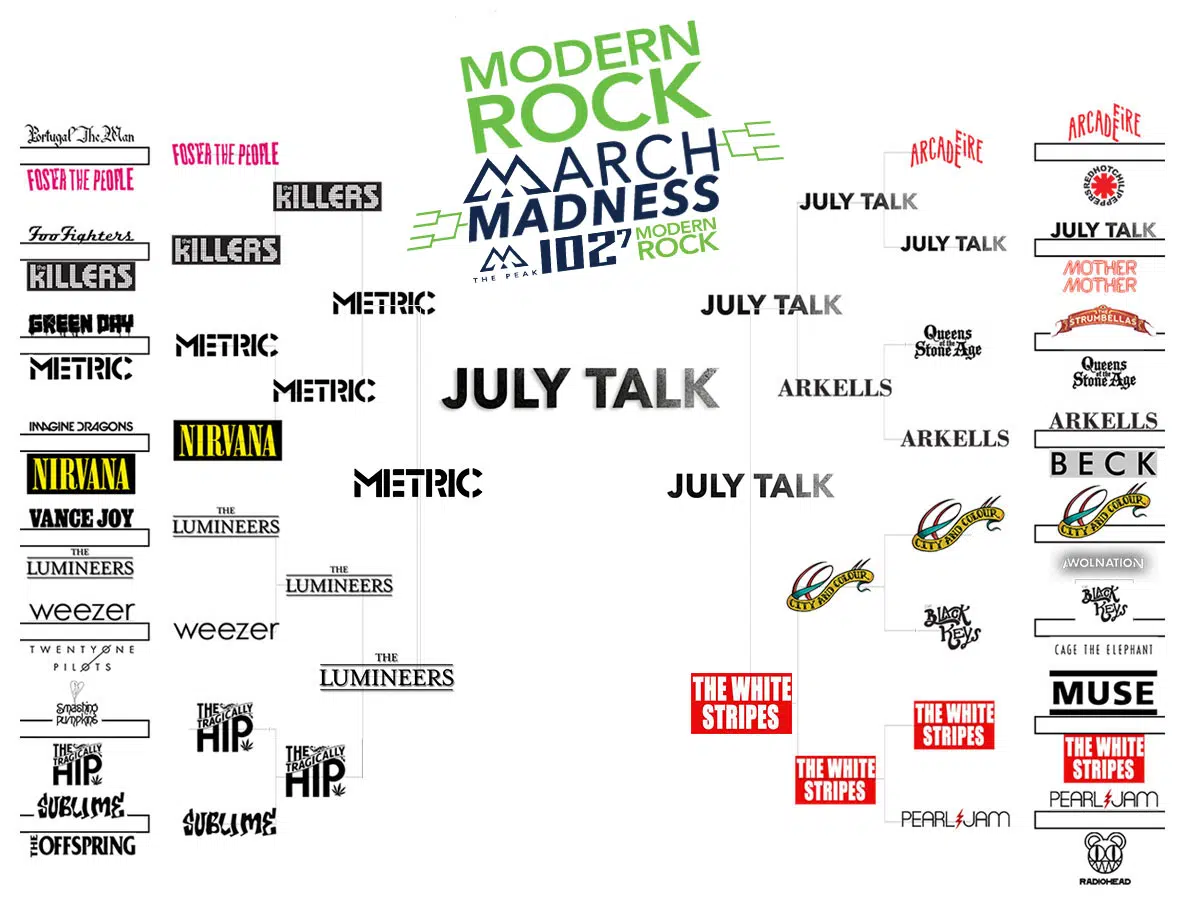 Round 1 Results
Foster The People DEFEATED Portugal. The Man 54%-46%
The Killers DEFEATED Foo Fighters 55%-45%
Arcade Fire DFEATED Red Hot Chili Peppers 68%-32%
July Talk DEFEATED Mother Mother 73%-27%
Metric DEFEATED Green Day 55%-45%
Nirvana DEFEATED Imagine Dragons 62%-38%
Queens of the Stone Age DEFEATED The Strumbrellas 61%-39%
Arkells DEFEATED Beck 71%-29%
The Lumineers DEFEATED Vance Joy 58%-42%
Weezer DEFEATED Twenty One Pilots 60%-40%
City and Colour DEFEATED Awolnation 69%-31%
The Black Keys DEFEATED Cage The Elephant 62%-38%
The Tragically Hip DEFEATED Smashing Pumpkins 76%-24%
Sublime DEFEATED The Offspring 54%-46
White Stripes DEFEATED MUSE 58%-42%
Pearl Jam DEFEATED Radiohead 51%-49%
Round 2 Results
The Killers DEFEATED Foster The People 77%-23%
July Talk DEFEATED Arcade Fire 75%-25%
Metric DEFEATED Nirvana 64%-36%
Arkells DEFEATED Queens Of The Stone Age 63%-37%
The Lumineers DEFEATED Weezer 51%-49%
City and Colour DEFEATED The Black Keys 51%-49%
The Tragically Hip DEFEATED Sublime 89%-11%
The White Stripes DEFEATED Pearl Jam 51%-49%
Elite Eight
Metric DEFEATED The Killers 66%-34%
July Talk DEFEATED Arkells 76%-24%
The Lumineers DEFEATED The Tragically Hip 56%-44%
The White Stripes DEFEATED City and Colour 51%-49%
Final Four
Metric DEFEATED The Lumineers 74%-26%
July Talk DEFEATED The White Stripes 88%-12%
Championship Round
July Talk DEFEATED Metric 87%-13%