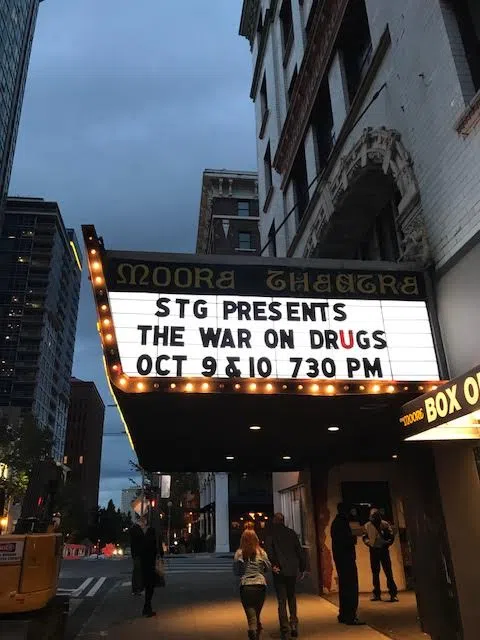 When 2017 started, I promised myself I was going to attend as many concerts and festivals as I could. I counted well over 125 different bands
1) The War On Drugs  Moore Theatre Seattle
I bought a single ticket, drove down to Seattle and was enamoured the entire show. A Deeper Understanding is one of the best Albums, and should be in your vinyl collection.
2) Kendrick Lamar/the xx/The Head And The Heart/Radiohead/Father John Misty/Lorde/Arkells Coachella Weekend 1
Coachella is a yearly event, and you should find a way to go one year.  I'll be heading down again in 2018, and am counting down the days to the release of the schedule(early January). Big kudos to Arkells for crushing their set. It was a magnificent weekend, that is worth the dough, and planning. I also ate In N Out Burger as my post concert meal every….single…night!
3) Tom Petty and The Heartbreakers with Special Guests Lumineers  Rogers Arena
I grew up with Tom Petty +THB music. I had never seen the Lumineers, and it was a fantastic night of music. Who knew it would be one of Tom's final appearances, before his untimely passing. He played a pile of songs from one of my fave albums of all time, Wildflowers. I wish I could buy a download of that show. If you were there, you knew how special it was.
4)U2 with Special Guests Mumford And Sons  B.C. Place
Besides the BS, of the mega lines and mass confusion getting in, U2 put on a Stadium show clinic. The Joshua Tree is another album I love, and seeing them perform the whole album front to back, was really emotional. I never get like that, but I took it all in.  Totally present and was truly wowed. I've seen them a billion times, and seeing the first show of the World Tour, made it more memorable.
5) Father John Misty Malkin Bowl
Some people think the guy is a bag, I love Pure Comedy. If you haven't checked him out, lots of room for you to get on the bandwagon. Just loved his performance, and the people watching was top notch.
6) Metallica B.C. Place
Interviewing Rob from Metallica before the show was awesome, truly a great dude.  The show was everything you want, big, loud, pyro, classic fist punching anthems. They are, and will always be a great band. On a scale of 1-10 for people watching, it was an 11.
7) Ryan Adams Orpheum
Ryan Adams latest album, is one of the best of the year.  The show at the Orpheum in late Spring was an absolute stunner.  What an impeccable show.
8) Arcade Fire/ PNE
Everything Now isn't one of the best albums of the AF canon. Not for me to judge, but I must say they brought their A GAME to the PNE Coliseum in October. Shame on you if you weren't at the show. An out of body and exhilarating experience.
9) The National/QET Night Two
The National are one of the smartest bands out there, and my goodness I was blown away at how good the show was. I wasn't surprised it was good. I was surprised how many days after it took me to unpack all the songs, and emotions attached to them. So glad I was able to see them play. A perfect venue for them.
10) Royal Blood/Commodore
They rolled into The Commodore and blew up the place. Having seen them several times in the last few years, they keep getting better and better. The live performance was incredibly intense, and I loved it. They came back a few weeks later, when they opened for GNR, and melted my face off again!
Honourable mentions….Japandroids at the Commodore, Revivalists Folk Fest, Tool Rogers Arena, A Perfect Circle PNE, GNR BC Place, Rise Against Abbotsford, Deck The Hall Ball Key Arena, Run The Jewels PNE Forum.